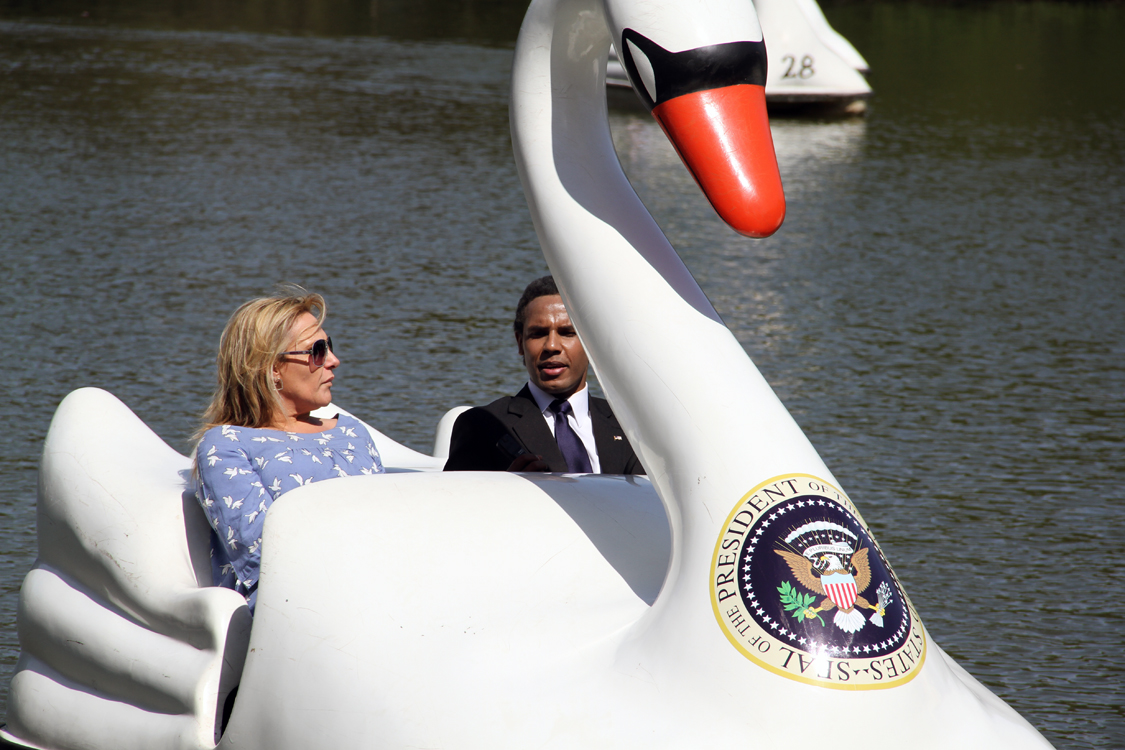 The Speech of the Swans
8th Mercosul Biennial, Porto Alegre, Brazil (2011)
Collaboration with Dawn Weleski
Each Sunday for five weeks, at the lake in Porto Alegre's central park, actors portraying Venezuelan President Hugo Chavez and United States President Barack Obama gave free rides in swan-shaped boats to the public. As they travel with members of the public, the actors asked the question that all lovers eventually ask, "what do you really think of me?" The public's response to this question was recorded live by the presidents themselves. In the afternoon, both presidents delivered speeches taken verbatim from the opinions they have gathered. Both inside and outside their countries, Chavez and Obama have managed to function as uncanny screens onto which all sides of the political spectrum project their fears and ideals. Speaking for the first time as conflicted figures, they tuned public perceptions into first-person personal orations reflecting the complex political conditions inside Brazil as it struggles between the socialist influence of Venezuela and it's growing status as an economic power deeply enmeshed with the United States.
Actors:
Rodrigo Marquez as President Chavez
Rodrigo Shalako as President Obama
Intern:
Leonardo Valle
Special thanks to Paola Santoscoy, Mariana Xavier, Patricia Barbieri, Germana Konrath, Leonardo Valle, the curators and staff at the Fundacao Bienal do Mercosul, Rodrigo Marquez, Rodrigo Shalako, and all of the Porto Alegre residents and visitors that shared their opinions and perceptions of these world leaders.